Are you looking for ukulele lessons in the West Midlands? The ukulele is a wonderful instrument which when you fall in love with you will never want to put down. Compared to guitar the `uke` is simpler to learn and is often a better choice to start out with for many people who have never played an instrument before.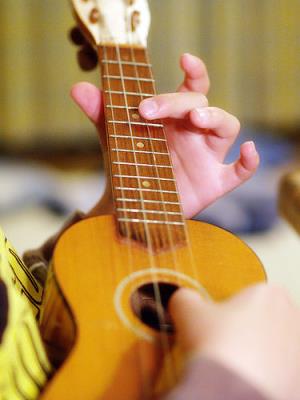 Ukulele`s have gained massive popularity over the last few years and you won`t listen to the radio for very long without hearing one somewhere. Artists such as Elvis, The Beatles and The Beach Boys have all used the ukulele and more recently musicians such as Jack Johnson, Eddie Vedder, Noah and the Whale and many more have had huge success with this wonderful instrument.
It makes a great gateway to playing guitar if that is what you would like to do eventually. The skills you learn on the ukulele are easily transferable to acoustic and electric guitar, as well as mandolin, banjo and bass guitar.
If you are new to making music and have never played an instrument it really is worth considering starting out on a ukulele. They`re so much fun! If you want to learn how to play one, we will get you playing the ukulele in no time at all. Just like with guitar, the ukulele is a serious instrument in its own right. A few years ago it was considered a bit of a novelty but no more. Have a listen to the brilliant Jake Shimabukuro to see what I mean. Some of the things you can do on it are breathtaking. If you have experience of playing the `uke` and want to reach the next level and play like Jake, we will get you there. Many ukulele players simply strum a few chords are happy to do that, which is great, but if you want to be able to really stand out from the crowd, come down for a free trial lesson and we will make you the best ukulele player in town.
Ukuleles are also wonderful instruments for younger children to learn. Playing a guitar (even a 3/4 size) can be difficult for children as young as 6 but the ukulele is a fun way to introduce them to the joys of playing an instrument and all the skills and benefits that come along with it.
Give Dan a text or call today on 07546 392 468 or contact me here and together we will get you playing the ukulele in a fun, simple and effective way.