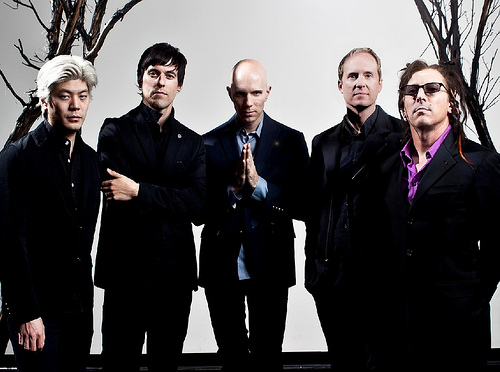 A Perfect Circle, as many of you may know are the brilliant brainchild of the exceptional guitarist, Billy Howerdel. Once the guitar tech for Tool, David Bowie and Nine Inch Nails and others, Billy learned a lot from these great artists, and with his passion for unique sounds and textures, such as delay and modulation and a love for The Cure, he created a band with a sound that is genius as well as unique.

I remember seeing them in Birmingham (UK) at the Academy in 2004, (supported by Auf Der Maur, remember them?) It was an incredible show, and definitely still up there 9 years later as one of the best I`ve ever seen. They hadn't long released the awesome `13th Step`, so the set was a great blend of tracks off that album and their fantastic debut, `Mer De Noms`. To date they have released three studio albums full of tracks which are really unique and packed full of huge riffs, passionate vocals, intricate textures, off beat drumming, unusual time signatures and effects soaked guitars.
One thing that A Perfect Circle have always done, even with their ever changing line up is that laid back heaviness which gives the music a classy feel. Whereas most rock bands (especially since 2000) have this urgent upfront sound often coming across as a bit cluttered, APC never do. That`s testament to the fantastic musicianship and superb songwriting. They have created many a classic riff, and believe me; it was hard to narrow this down to the top five. Most of you will be wishing for other tunes in this list, so if there`s anything not here, let me know in the comments below, and I`ll do my best to make it a video lesson in the future. So, here are five of the best riffs in my opinion that they have created along with the tab. Have fun playing them.
All these songs tabbed are in C# standard. That is from low to high – C#, F#, B, G, G#, C#. Use your bridge pickup for all these parts, and preferably a humbucker. You are after a `medium gain` sound. That is, you want it to be pretty distorted so everything sounds thick and powerful but not to the point where you can really `hear` the gain. If the parts start to sound messy in anyway, back off the gain. In terms of EQ, you want a thick, mid heavy sound with not too much top end. So keep the bass and mids up, and turn the treble down a touch. All equipment is different especially when placed together and with each guitarist each setup won`t sound the same, so use your ears to gauge exactly where you need to be tone wise.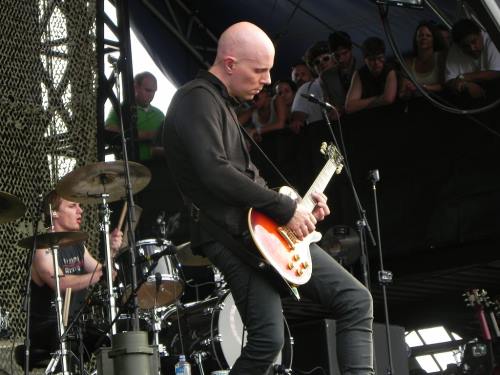 1) Judith
The song that got me into this band. A mesmerizing riff and a cracking song too. The way the riff slams in the intro is memorable, instantaneous, and downright brilliant. I will always remember the first time I ever heard it. I was watching the `VH1 Rock Show` presented by the late, great Tommy Vance back in 2000 just as I was leaving school, and he played it one night. Instantly, I was hooked. The riff, the vocals, the David Fincher video, Paz Lenchantin on bass and that thing she does with her hair, and the whole vibe of the song got me mesmerized straight away.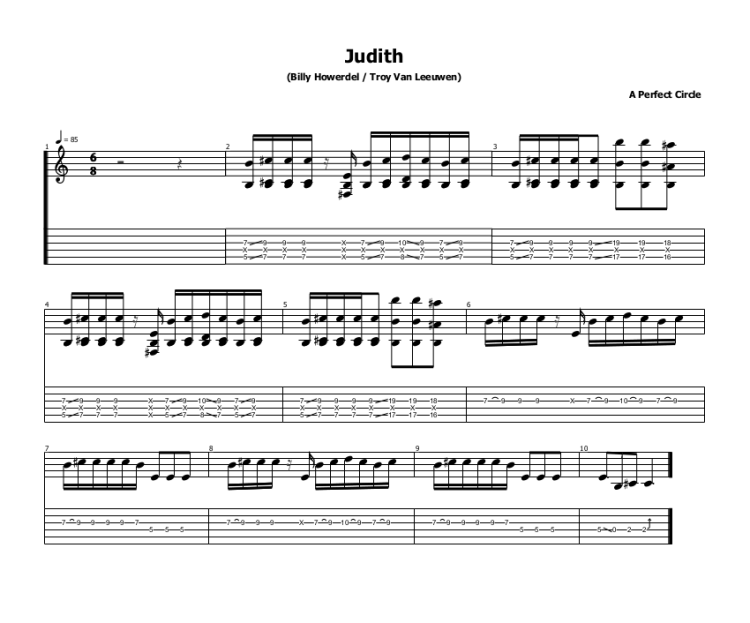 It`s not a particularly tricky riff as long as you are comfortable playing octave chords and sliding up the higher frets with them. It is in 6/8 which is a fairly uncommon (and underused) time signature with rock bands. If you have never used 6/8 timing, it is fairly unique, as it is simply two beats, split into three triplets each. It often gets confused with 3/4 but that is a different time signature altogether. To keep track of the counting, say 1,2,3,1,2,3 out loud. That is one bar. It will help as always, learning the riff inside out before even playing it. If you can sing or hum the riff, you're half way there. Don`t forget to bend the last note slowly going into the break just before the first verse.
2) Pet
What a piece of lead playing this is! This is without doubt one of the best two guitar part riffs that I've ever heard. Both the rhythm and the lead are essential to this genius riff. Not very often I say that about a riff. The rhythm guitar is fairly simple and has nice stomp groove to it, while Billy Howerdel`s screaming lead plays over it and fills the gaps without taking up all the space. One of the best modern rock riffs of all time in my opinion. I also love the `cover` A Perfect Circle did of this track. I say cover very loosely of course, as it is one of their own tracks, but the remix did feature on their covers album, Emotive. Check out the track here.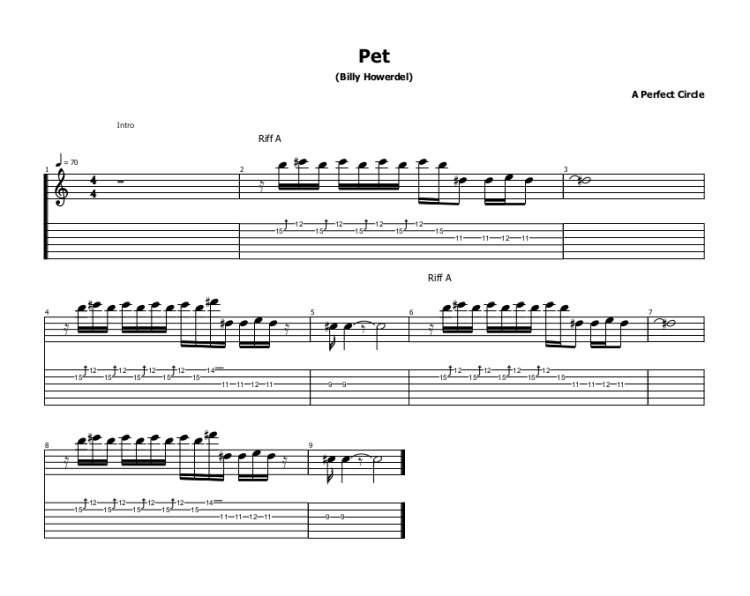 The lead part played by Billy is more demanding and you should take your time with it. Get a nice thick, mid distorted which isn`t too gained up as it can sound messy. Set the gain so that it is just starting to scream when you pay the two notes together to get you close to Billy's sound.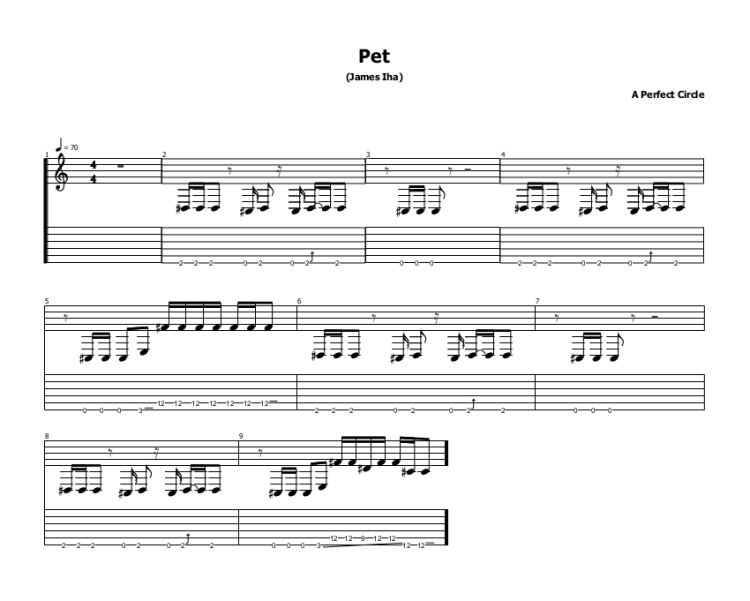 The rhythm guitar shouldn't prove to be much of a problem, just be careful to keep it clean during the breaks, and watch the syncopations which really spice up the groove.
3) The Hollow
The opening track of Mer De Noms surprised a lot of people when they first heard it. This is the first thing a lot of people heard from A Perfect Circle, and many of the curious were naturally Tool fans. A lot of people couldn`t believe the sweetness of Maynard`s voice and the range he covers in this band, and I think it really helped to blow comparisons out the water that APC was going to be `Tool lite`. Just like with Judith, The Hollow starts with a quick drum intro and then the guitars and bass join in.  It's a bit of a signature way to start a track and also like Judith, this is a monster guitar riff but in a very groovy laid back way.  The way the lead and rhythm work together is a joy. Billy is playing octave chords with delay (he loves doing that) over Troy Van Leeuwen`s tight syncopated rhythm.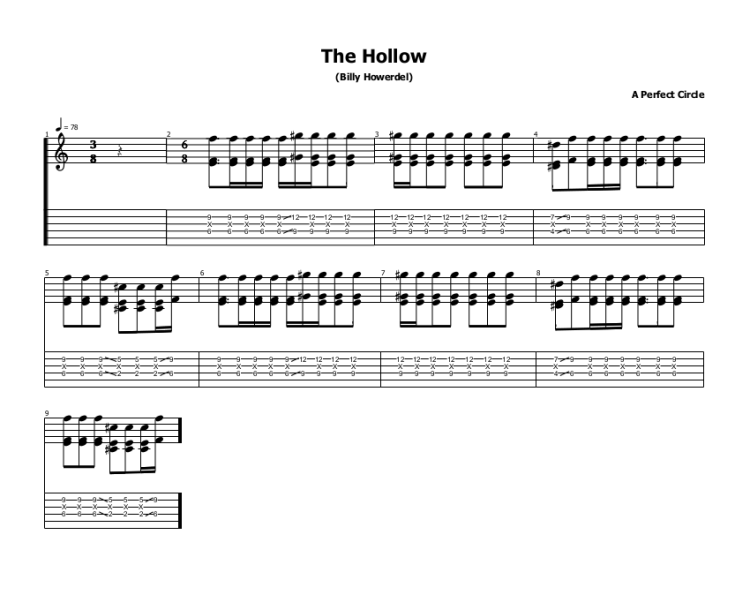 The lead is one of those simple delayed lead that adds a slick layer over the top without dominating. Perfectly arranged and beautifully mixed. You get a great feel for both parts without one stealing too much of the mix.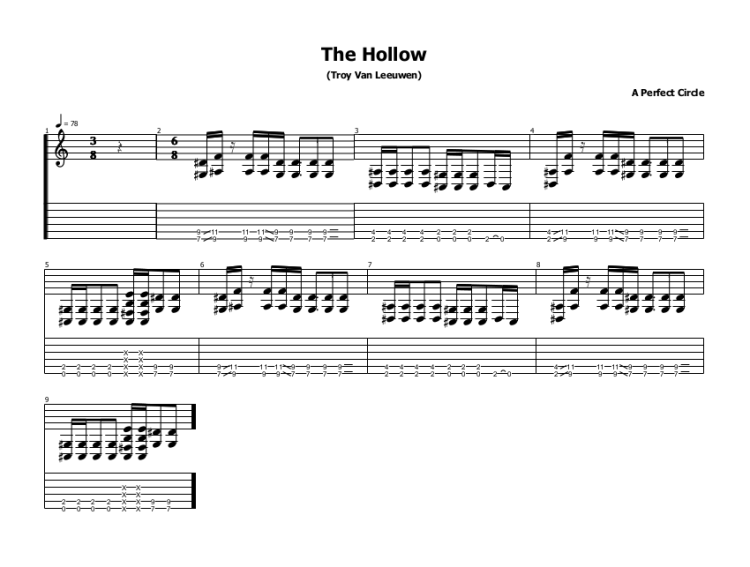 Also, in 6/8 time it's not a particularly challenging riff, but you have to lock on to get the feel of the syncopation.  Just like with any 6/8 song, to keep in good time, count 1,2,3,1,2,3.
4) The Package
The opener off 13th Step. It's a slow burner and takes over 4 minutes before it kicks in with this almighty riff. The whole song is brilliant and a brave way to start an album. It sets the mood. The first 4 minutes create and build the intensity brilliantly for the huge riff when it kicks in at 4.08. It's probably one of my favourite riffs ever, and just like with Judith, I can remember the first time I heard it. That`s the sign of a great riff.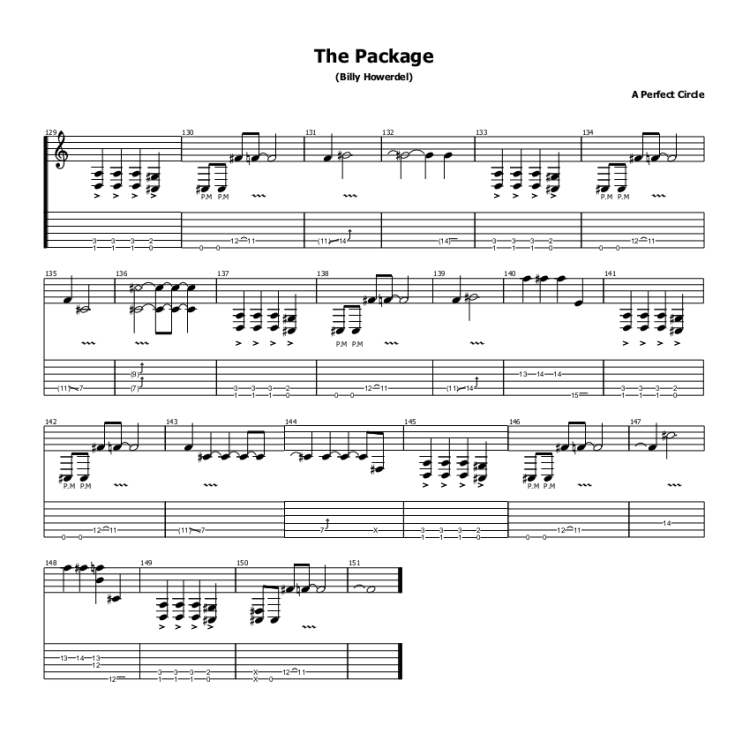 As well as being memorable, it`s a pretty unique in the sense of it essentially being a riff of two parts. First you have the simple downbeat stomps with all the instruments playing, followed by the drums cutting out and letting Billy Howerdel create more tension by filling in the next three bars while the rhythm section gradually build up the energy to get into the next killer riff with James Iha playing string mutes/harmonics in the breaks.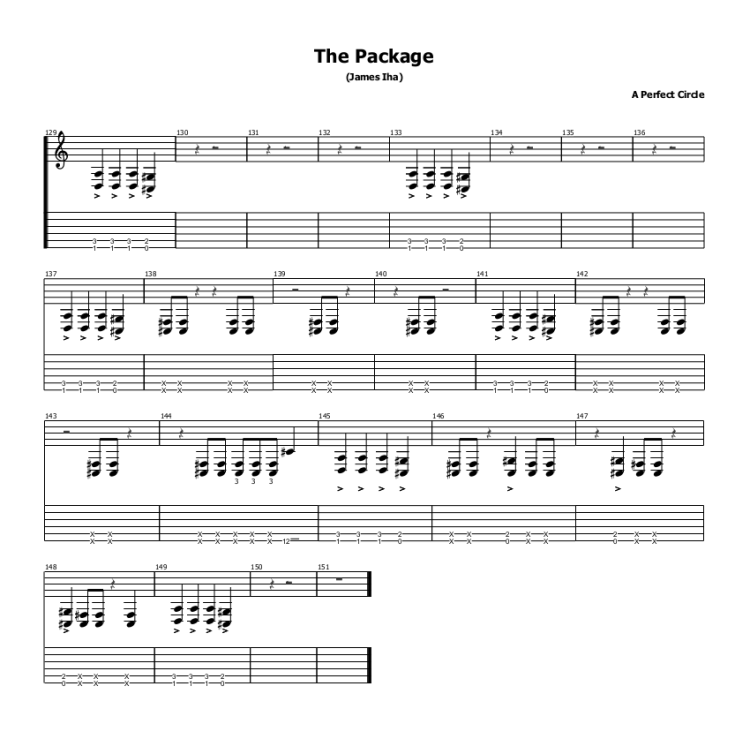 James` rhythm part is just a simple variation of Billy`s more advanced part but it is very essential to the underlying groove. The string mutes are hit quite lightly so the strings are not completely deadened. This is to give a slight harmonic sound to the part and elevate upwards in the mix a touch. Very subtle but very clever.
5) The Outsider
Such a huge song, and one of the best they played live back in 2004. It`s definitely a fan favourite for its dark, brooding undertones, with Maynard`s pained lyrics. It`s a truly touching song, and what I love about it is it`s dark, subtle progressiveness. It`s not a prog song in the classic sense of prog, but as it goes on it` gets subtly darker and darker. There`s quite a few riffs I could of picked from this song, but the intro one is the one we have here. It really sets the tone for the track and is a great piece to play. At some point, I`m going to have to do a full video lessons on all the parts of this masterpiece.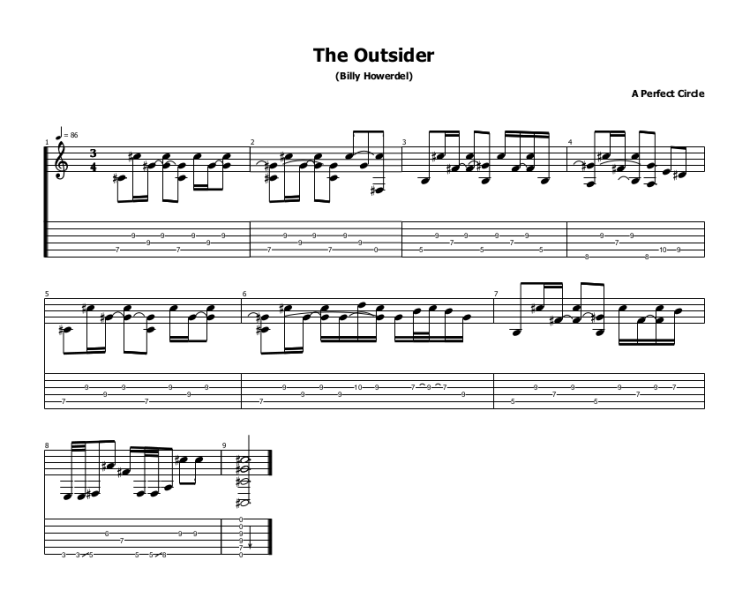 A deceptively tricky part for most people. Most of the riff is simple apart from the 6th bar which adds a flurry of quicker 32nd notes. Once you have the groove of the riff down work on this section on its own until you`re comfortable with it then add it to the main part. Take your time with the hammer on and pull off and start slow and build up to speed.
Conclusion
There you have it. Five of the best A Perfect Circle riffs ever. They are an incredible band and I can`t wait for the day they release some new material. We have all been waiting too long. In the mean time enjoy learning these classic riffs, and once you have these riffs down, try learning the rest of the song by ear. Fear not though if you`re struggling, I`ll be providing some video lessons soon enough, of the whole of these songs. Enjoy.
P.S. I will be making this `their top 5 most awesome riffs ever` a regular feature on different bands so give me a shout in the comments below on your thoughts on this lesson and any bands you`d like me to feature in the future.