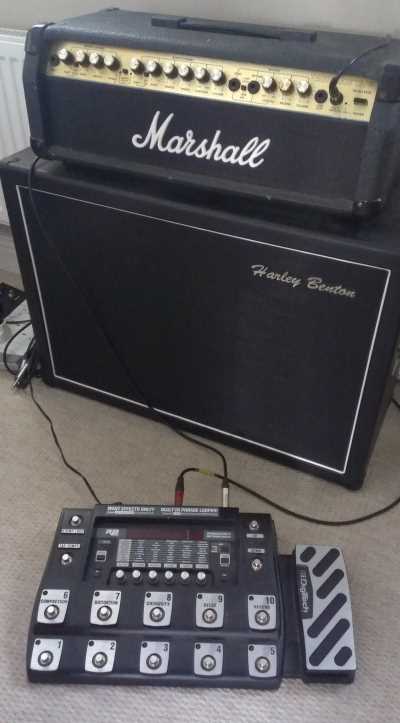 The DigiTech RP1000 is the company`s flagship multi effects processor and has been a huge success with good reason. It's no surprise why it's still their number one effects processor. It is my effects processor of choice, and alongside my Marshall 8100 amp, the core of my sound. It may of been around for a couple of years but it`s still selling in big numbers and you can see why as it`s a huge step up from the still superb DigiTech RP500. It`s simply one of the best multi effects pedals around and after a two and a half years of using it extensively, I've created what is probably the most in depth review ever.
Ease of Use
Just like the RP500, the newer and slicker RP1000 is very simple to use and navigate. Compared to the old Boss units or some Line 6 pedalboards I've tried, it's an absolute walk in the park. There`s 10 footswitches, and you can play in `Preset` mode or `Pedalboard` mode where the top 5 footswitches turn effects on and off and the bottom 5 change presets.
This is pretty awesome and turns the unit into a very flexible beast. It has a nice, bright display and it has an easy to follow manual. Thankfully, you can get it out of the box, quickly turn the dials and get a solid amp tone without having to be Bill Gates to programme it. Programming is easy, just don`t stick with the factory presets, they sound rubbish in a band situation. The factory presets sound great in shops as they have no mids (which usually sounds quite cool) but when in a band situation you will not be heard. So, before we go any further, when you are creating patches, remember to be generous with your mids!
Build
It's a solid pedal board, it's almost like it was made from the same genes as Arnold Schwarzenegger. All the parts except the plastic dials are either solid metal, or very durable plastic. It would of made the unit feel that little bit more durable if those plastic dials were made from metal, but I've never had a problem with them so can`t complain too much and the RP is definitely more durable than a lot of other guitar pedals out there.
I have actually dropped mine a few times, (yes, after a few too many beverages after a gig), but never had a problem with the RP itself. The only problems I have had is with the power supply. Twice, I've had to have it replaced, but having a 3 year warranty with Thomann has been handy.
Sounds
Amp tones
As is always the case with every multi effects processor in my experience, the amp tones, and modelling ability varies hugely. They are always a mixed bag and you have to work hard to get 'your sound' whereas if you use the real amp you can dial it up and get it quickly.
One of my biggest pet peeves about the RP modellers is that if you take the original amp and put it alongside the modelled version, the tones are very similar, and very impressive, but and it's a very frustrating, but, is that the RP lacks a lot of the flexibility of the original and adds a slightly unnatural EQ harshness. This is possible to EQ out though.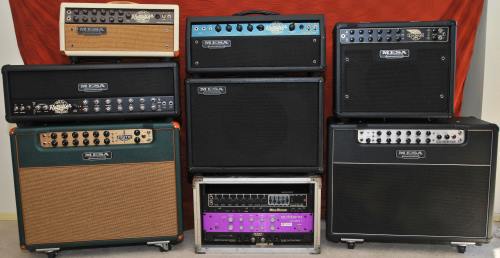 For example, I love Mesa Boogie Dual Rectifiers, so when I got this, I quickly turned the dial and put the dual Rectifier setting on and was initially impressed, but then a bit frustrated. The problem was that a dual rectifier does much more than the big modern high gain sound that a lot of people associate with it. It can do, crunch, cleans up well, and gives a ballsy, tone, not just huge gain. The RP version unfortunately doesn't though. No matter where you dial the bass, mid and treble it still sounds huge and pretty scooped. The gain goes from super high gain, and if you drop it right down, goes to low gain crunch. What is really annoying is that it sounds fantastic; it just lacks the flexibility of the real thing.
With the dual Rectifier model, you hardly get any mids, so when playing in a band situation, you get lost in the mix very quickly. Even when the mids are turned up to ten! I know a real Dual Rectifier doesn't sound like that. When I had it set like this, I think I neatly melted our bass player's ears off at practice, as I had to turn up so loud to be heard.
One way to get round this is to use the built in EQ if you don't have your own EQ pedal. Set the mid band to roughly 2000 Hz, and increase the boost to about 2 or 3. This makes a significant difference and thankfully solves the problem of not being heard.
You may find in the other amp settings you have a slightly different issue, such as the Marshall JCM900, (which is another one of my favourites) and is known for it's more mid based sound. So, for this one I had to cut out a touch of the EQ as there was a slight grating frequency not heard on the original.
So, you see what I'm saying, most of the amp models are heavily based on and similar to the real version of the amp they are replicating, but only the most well known, stereotypical `sound` the real amp produces, whereas the real amps are often far more varied and subtle. That to me is the biggest difference between the RP and real amps. It's definitely not a deal breaker, as you have a LOT of choices, it just means you have to tweak and try a lot of the amp models out and that does take time.
Play about with lots of different amp models and see which you like best. Listen out for the differences. I mean, really try and listen. Having access to all these different tones will really help your ear improve if you listen intently to what is happening to the tone. Check out this post for more on improving your aural skills.
The top three amp models I love the most are the Dual Rectifier, JCM900 and Peavey 5150. This is definitely due to my own taste, as I love that thick, powerful, tight modern sound that a lot of the bands I love go for. There are some fantastic classic amp models available too such as the Marshall Master Volume, (my personal favourite `classic` amp), Marshall Jump Panel, and Orange OR120.
It is possible to find what you're after on here without doubt and when you do, it's good enough to use live. If you want to just use the RP1000 for its effects and flexibility, but use your amps tone, this is where the trusty 4 cable method comes in.
`4 Cable Method`
The 4 cable method allows you to fully integrate the DigiTech RP1000 into your current setup and this is where it truly shines. As a guitarist, you no doubt have your own favourite amp and stompboxes. Well now you can keep them and work in the RP1000. It's a simple case of plugging your guitar into the pedal, and plugging 3 cables (as opposed to one) from the RP1000 to the amp.
Now, this allows you to use your amp`s tone, switch from clean to drive on your amps footswitch as usual, use the effects from the RP1000, turn your own stompboxes on and off, and switch between your amps tone, and the modelled amps. This is mightily impressive. The only thing you can't do is use the RP to switch your own amp`s channels.
For you, that may not be a problem. In my case, I use a Marshall 8100, which has a stunning drive channel, but an ordinary clean tone. I therefore, use the RP1000`s clean, and my own Marshall 8100`s drive, using the RP1000 to control the switching of tones. That's really impressive and allows for a huge sonic pallet of tones when live or in the studio.
My single biggest annoyance of the pedal is that there is a latency (a short pause) when switching between different patches. This is hugely annoying and it means live I've had to restrict my sounds. It's only a slight lag but imagine when you`re playing live and the song is transitioning from a clean verse to a distorted chorus, you want that transition to go as smoothly and nicely as possible, not have a slight dip in sound. Yuck. No thanks.
I read a couple of reviews for this and can't believe no else mentioned it. The reason for it is apparently DigiTech designed the RP1000 to have only one processor, so it can't deal with information fast enough when changing patches. I have been hoping for this problem to be solved or improved upon on system updates for the machine, but no luck so far. If you only use one patch per song, then it's not a problem, but if you use a few and have patch changes in awkward places, be prepared to hit the pedal just before the change transition in the song. It works, but is hugely annoying having to hit the pedal half a beat early. The 4 cable method allows you to switch without the lag, as you can switch the channel on your own amp with no delay at all.
If you're not using the 4 cable method, you have to use your imagination get round the problem of switching between a clean and dirty tone. I found a solution which works pretty well, but isn't perfect, and that is to use the RP1000 in pedalboard mode (which is far better than preset mode in my opinion) and use one of the top rows as a volume booster and cutter. Edit your patch so that one of the top row`s on/off buttons is set to `volume pre` by using the down arrow to edit the `expression` part of the patch.  (I usually use number 6 which is the on/off switch for the compressor). Edit the parameters of the volume pre so that the volume is at zero or 1 when the number 6 switch is off and 100 when the stitch is on.
This will cut your signal so it sounds clean when off and boost it up to normal when on. The trick here is to set up your distorted tone first and use the volume pre on/off to cut it to a clean tone. A lot of guitarists do this with an external volume pedal especially when they only have a two channel amp and want to get a third tone from it. The volume pedal effectively cuts your guitar signal going into the amp, allowing for that clean one. It works great with the RP1000 and allows you get a variety of tones without that awful bit of latency.
Recommended (High Gain)
Modern amps
'01 Mesa Boogie® Dual Rectifier
Classic amps
'77 Marshall® Master Volume
Recommended (Clean)
'65 Fender® Blackface Deluxe Reverb®
DigiTech® GSP2101 Artist Clean Tube
Cabinets
The cabinets on offer are pretty good too, although I never really `feel` an amp simulator. If you are playing the RP1000 through an amp you`re not really a big fan of, you may be tempted to put an amp simulator on. To me, it sounds better with it turned off, and only used if you are not playing it through an actual amp such as a PA system or Audio interface. When in need though, some sound much better than others. Try the Marshall `69 and Johnson Vintage 30`s for classic tones and the Mesa Boogie `07 for big rounded modern gain sounds. I must give a shout out too to the `96 VHT. They sound incredible and give that blend of modern and classic tones. Billy Howerdel of A Perfect Circle and Ashes Divide used to use a VHT can and he has one of the best tones live and in the studio I have ever heard.
I`ve always found getting a clean tone I enjoy a lot easier than medium to high gain tones. As long as it is a warm, glassy sounding amp with the right settings to suit the guitar and pickup I`m using, it usually takes care of itself. That being said, the Fender Twin Reverb and Gibson GA-40 add a nice layer of warmth to my tone which I adore.
Recommended (high gain)
Most of the amps are matched to their respective cabs, so try them first. Or try these.
GREN4X12 – 4×12″ Marshall® 1969 Slant w/Celestion® 25WGreenbacks™
VNTG4X12 – 4×12″ Johnson® Straight w/Celestion Vintage 30's
RECT4X12 – 4×12″ '07 Mesa/Boogie® w/Celestion® Vintage 30's
BOTQ4X12 – 4×12″ '96 VHT® Slant w/Celestion® Vintage 30's –
Recommended (Clean)
GBS1X12 – 1×12″ '60 Gibson® GA-40
TWIN2X12 – 2×12″ '65 Fender® Blackface Twin Reverb™
All in one pedalboard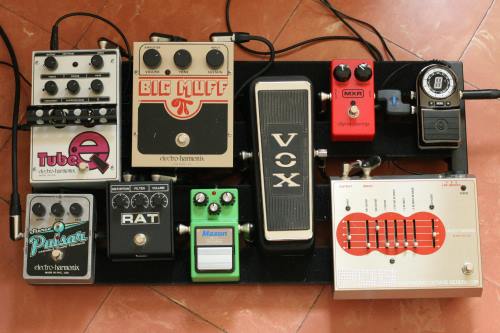 Compressors
Compression isn't actually a huge part of my sound. I have always enjoyed having an expressive, dynamic sound, and when using medium to heavy gain, your sound is compressed anyway. So, I don`t turn it on very often, apart from when doing some djent style chugs, or wanting a lead line to be really smooth, but when I do I go for the CS1. It`s adds a nice, gentle smoothness to your sound. Just don`t overdo it. Not really a fan of the MXR Dynacomp. It just doesn't suit my taste buds. I think it sounds a little bit spanky which is just something I`m not into.
Recommended
Boss® CS-2 Compressor/Sustainer
Distortion
I've tried quite a few of the distortion stompboxes and most are good. The ones I use mostly are the TS Mod, and fuzz. I do like the Amp Driver a lot too, but I always try to be consistent with my settings so, only really stick with the first two. The TS Mod is based on the customisation a lot of people do to the Ibanez Tube Screamer to bring out the best of the stompbox. It is wonderful, just be careful with the settings, you don't want the tone dial set too high as it tends to push up the treble and make your sound a touch messy. Play about with the settings, and once you find the sweet spot, you`ll love it. Try adding it to your basic rhythm sound for when you need a bit more bite and aggression.
The Big Muff is a classic, and rightly so. It`s not very often I put this on, but when I do, it rips up the sound, especially live. I love it for its distinctive sound. If you`re into grungy fuzz, then you can`t go wrong with this. Easily the best fuzz on the RP1000.
Not all the distortions sound so great though. The DigiTech Death metal is just scooped gain. Not great at all. There`s no flexibility to it and the DigiTech Grunge is a pedal I used to own but really didn't like that much. The RP1000`s version replicated the sound of the Grunge pedal really well, but it just isn't a good sound. Think of `Dirt` era Alice in Chains, but with a much weedier tone and zero flexibility. Now, don't get me wrong I love Dirt era Alice in Chains and the tone Jerry Cantrell had, but the Grunge pedal, just doesn't do it well. And, besides, Grunge was such a varied sound, why did DigiTech just pick one bands` sound to replicate?
Recommended
Electro-Harmonix® Big Muff Pi®
Wah
There are three wahs on the RP, but I always use the Cry Baby. That's because I love Dunlop's Cry Baby Wah, and own the Zack Wylde ZW45, but I can honestly say I prefer the Cry Baby in the RP1000. It is based on a different model wah to the great hairy ones wah, (which is throatier). The RP`s Cry Baby just sounds incredible. I've used this wah on recordings numerous times, it's that good.
The DigiTech Full Range is a bit useless to be honest. It sweep is too large. Toe up, there`s hardly any sound and toe down there`s too much.  The other two, sound fabulous for what they do, but I like to be consistent with my tones and effects.
Recommended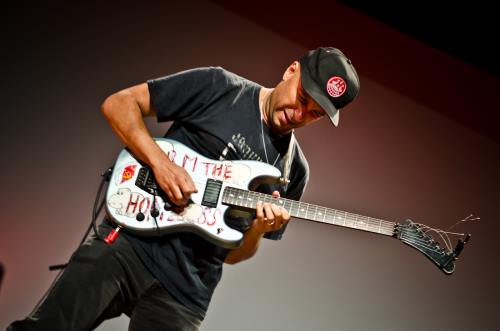 Effects
Effects are a huge part of my sound as a guitarist. Ever since I got into bands such as Rage Against The Machine, Muse, A Perfect Circle, Incubus and Dinosaur Jr, I have always love adding an effect here and there to add that sparkle and uniqueness to various parts of songs. The trick with using guitar pedals is to know when to use them and when not to. My favourite effect is probably the DigiTech Whammy.
It was probably hearing `Killing in the Name` for the first time that my jaw dropped and I thought, "Whatever the hell is making that sound, I want one!" Eventually, I did get one, and I have to say the RP1000`s version does it proud. It very smooth and articulate, and does the job bang on.
I also use the Electro Harmonix Small Stone, DigiTech Tremolo and DOD FX25 Envelope Filter frequently. These all do the job they were meant to and replicate the originals very well indeed. The Small Stone adds that wonderful spacey, swirl that only a phaser pedal can deliver. The tremolo brings that stuttering trippy vibe, and the Envelope pedal works just like the real thing would. Play soft the tone is softer and with less attack, dig in with a hard attack the pedal screams. Brilliant!
I must also give shout outs to the ADA Flanger, Electro Harmonix Small Clone (chorus) and the `Scattertrem`, which  is wonderful for those trippy Tom Morello-esq tones.
Not all the effects are as good though, the harmonizer is downright poor. It`s pretty weak and has a few off sounding tones which are the last thing you want when harmonizing. The YaYa and Synth Talk have never found a way to get into any of my songs as they just sound rubbish. (Give me a shout if you`ve ever managed to get a good sound out of those two!) It seems they are there as a bit of a filler.
Recommended
Electro Harmonix® Small Stone
DigiTech® ScatterTrem™ Dual tremolo
Electro Harmonix® Small Clone
DOD® FX25 Envelope Filter
Delays
Delay is a huge part of my bands sound, and alongside Whammy and Wahs, the only effects I couldn't live without. There`s nothing better than a slap back tempo synced delay that has locked into the groove. The delays here don't disappoint. As well as 11 different delays, you have multi options to adjust the parameters and a tap tempo button to sync the delay to the track. Perfect if you ask me. The best delays by far are the Boss DM-2 Analog Delay, Digital Delay, Lo Fi Delay, and Modulated Delay.
The delays based off analogue models don`t do quite as well. They sound a touch mushy and not as crisp as the digital delay. This really is to be expected, delay is pretty simple yet at the same time quite complex. Replicating analogue subtleties in a digital realm is no easy task. The RP1000 does them reasonably well, but they're not quite to my taste. The digital delays however are superb. They give a nice crisp edge, and cut through the mix without much fuss.
Recommended
Reverbs
The reverbs are mightily impressive, but do we really need reverb on multi effects processors? When playing live, I hardly use reverb, as it often muddies the sound of the guitar, and gets me a bit lost in the mix. Instead, I prefer to let the rooms natural acoustics create the reverb, and I stick to delays to get my dose of ambiance. Similarly, when recording, would you use a built in reverb, or use one of the fantastic flexible reverbs that come as a plug-in? Most people would go for the plug-in. The plate reverb isn`t really to my taste though, as I`ve never really liked the plate reverb sound on guitar parts anyway.
Saying all that though, the reverbs on here sound fabulous, and if you find a use for them, maybe you're playing in a dull room, dry room, or don't want to mess with plugs in, you'll get a lot of mileage out of these reverbs.
Recommended
Lexicon® Hall
Lexicon® Room
EQ
The EQ is pretty good. It's not up to the standard of a rack mount EQ, or a stompbox version. If you're using the RP1000 for all its glory, including the amp settings, is recommend buying a separate EQ to tweak the tone. You'll do better with that than the built in one which is ok, but does the job. It just isn`t as transparent as something like the MXR M109 or Daneleltro Fish and Chips (ignore the stupid name, it`s a great pedal).
Gate/Swell
The gate is also ok, it will do the job. Again, not quite like a standalone one. The swell is something I've never used that much as I like to keep the gate on and you can't have them both on. Sounds cool though. I may try it in a song at some point, but always wondered why I should sacrifice the gate for it?
Conclusion
One thing that would make this an even better pedal would be to add the front dials off an amp to RP1000. Imagine having the dials off an amp somewhere on the pedalboard, so when you want to change your tone. Say you want to increase the drive as you`re playing a lower output guitar, at the moment you would have to go into all your presets and increase the drive and save them all. If you`re like me, you like a consistent high gain sound, and use it across most songs, but have different presets for the various effects each song requires. Now, if you have to go into all these presets and change and save it`s a huge pain. DigiTech, if you read this, add some global controls to the next version. It would make things so much better.
The effects lover in me would like to be able to turn more than one `effect` on at one time. Not a major deal, as you don`t really need 6 flangers on at any given time, but it would be a nice option to have for those trippy psychedelic moments you can still get some amazing messed up sounds from the effects, delays, wahs, and LFO`s you can have on at any one time.
Phew, that was an in depth review of the DigiTech RP1000. After two and a half years and over 30 gig, two singles, an EP and lots of lessons given, I'd give this unit a 9/10. It's not perfect, but it does an absolute ton of things brilliantly which would cost you an arm and a leg if you were to buy all the amps and effects separately, or if you were to buy the Axe- FX II. There are alternatives such as the Boss GT-10 or Line 6 HD500. I have never tried the Boss but Line 6 products have never really done it for me at all.
There are faults, and it would be nice if these were ironed out for the next RP unit DigiTech releases, but it does some things incredibly well. A lot of people state, and rightly, that you can use it straight out the box, but in my experience it will take you some time before you really get to grips with its brilliance and limitations. Overall, the DigiTech RP1000
is definitely one of the best guitar multi effects processors on sale.
If you get it, tweak it, crank it, and have fun with it as it's a truly inspiring beast.
Score: 9/10
A few small tweaks to the layout as mentioned above, getting rid of the latency between patches, and a couple of better sounding models, this would be the perfect pedal.
Coming sometime soon, will be my main presets for you to download, and plenty of other tips and tricks to make the most out of this wonderful pedal.