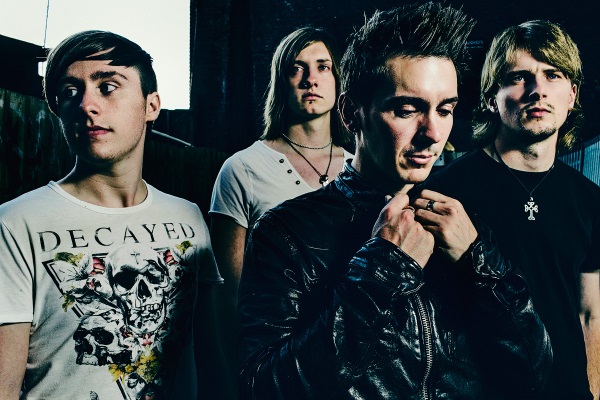 Welcome to a new feature where we will be having a Q and A with some of the best bands from around the world. First up we wanted to kick this off with a local band to us – the superb MARTYR DE MONA, and they`re here to discuss their brilliant new album `Impera`.
MARTYR DE MONA are currently cracking skulls across the nation with their huge anthemic grunge tinged metal, setting the trend for the next wave whilst tipping an appreciative hat to their illustrious predecessors from the Midlands (UK); Black Sabbath & Led Zeppelin.
These guys are seriously something to watch out for. Their massive tunes and stomping choruses are something I've enjoyed for a while, but they have really stepped up the game on new album `Impera`. The guys previously had a hit single – `Eva`, released in 2010, and since then, band of the year awards and nominations have ensued.
Following three years of touring including headline shows in Wolverhampton, London, Birmingham, Leeds and Dublin and performances at the LG Arena in support of Guns N' Roses, Avenged Sevenfold, Black Sabbath and Alter Bridge, MDM signed to In At The Eye Records/Universal Music in late 2012.
Consisting of founding member Louis Hale (Vocals/Guitar), Ant Rickett (Guitar/Vocals), Josh Wooldridge (Bass/Vocals) and Ashley Leatherland (Drums); Martyr de Mona are on the brink of a major breakthrough with their brand new album; 'Impera', which was produced by Romesh Dodangoda (Funeral For A Friend, Motorhead). The album was recently released to huge acclaim in March 2014 and to be honest it sounds incredible.
The album opens up with some intoxicating ambience before `Siege Mentality` kicks into to powerhouse of a riff, and doesn`t really let up all the way through to awesome album closer `Hollow Shore`.
There is a huge range of influences on the album and a great variety of styles fused together to truly delight any modern rockers palette. Listen and you will find the best bits of legendary artists such as Alice In Chains, Black Sabbath and Soundgarden all the way through to modern stars such as Periphery and Avenged Sevenfold.
If you like your rock music deep, heavy and with a delightful mix of classic sounds and modern textures, this will be right up your street. The guitar work is very neatly arranged without being overbearing and they compliment the powerful Alice in Chains style vocals very adeptly indeed.
Some of the standout guitar moments include:
`Hollow Shore` (Solo and middle section)
`Suffer Into Me` – (at 3:23 )
`Reprisal` –  (at 2:30)

With a full UK Tour in the works and a European tour being planned, the band dubbed the 'UK's answer to Alter Bridge' are setting the standard!
Guitarists Ant Rickett and Louis Hale discuss everything from the new album, their favourite chord, to their love of Guinness…
` Impera`
Tell us about the new album
Louis: It was recorded in October 2013 at Monnow Valley and Longwave Studios. Romesh Dodangoda did a fantastic job with the production and mixing. Robin Schmidt of 24-96 mastered the album.
Ant: The drums and bass were recorded at Monnow Valley and the guitars and vocals were recorded at Longwave Studios, Cardiff. Romesh is an incredible producer and great bloke who really pushed us to get a great result.
Your favourite track off Impera?
Louis: Sentient
Ant: Suffer unto Me. It's just got a bit of everything. It's heavy, melodic, raw and has a huge chorus.
What was the highlight of the recording process?
Louis: Going to Monnow Valley to record the drums, some of the biggest names in music have recorded there; it's a very special place.
Ant: Working with Romesh.
What was the hardest song for you to record in terms of the guitar parts?
Louis: Suffer Unto Me
Ant: Hollow Shore, most of it was moderate with its difficulty but the solo took me a few takes to get the feeling right and the end part accurate, to a standard which I thought was good enough.
Who wrote the guitar parts and how did they come about?
Louis: We all bring ideas to the table, sometimes we'll work on things in our own time and sometimes we'll construct something together in the practice room.
Ant: Me and Louis both bring ideas to the table and we compromise with each other as what sounds best. We don't always agree (laughs)
How do you arrange the guitar parts between the two guitarists in the band?
Louis: Basically Ant will take the lead and I'll take the rhythm parts but we harmonise lead on quite a few parts on the album.
Ant: I usually take the most intricate parts while Louis does the singing.
How were the guitars recorded on the album?
Ant: The rhythm tone was a mixture of a Blackstar 6L6 head and a Peavey 6505+ (which was kindly lent to us by Funeral For a Friend). We used a Kemper amp modeller for a few of the clean tones and we tracked some acoustic guitars.
Was there any interesting or unusual recording techniques used to record the album (particularly the guitars)?
Louis: Romesh doesn't like to give away his secrets!
Ant: It was pretty straight forward. We used a bit of whammy harmonics on a couple of the solos, which just gave them a bit more sparkle.
Any unusual tunings you love to use?
Louis: The open 'D' tuning is nice; we used it on 'End Of Forever' from the last album.
Ant: DADGAD and open C, but not so much with MDM.
My favourite part of the record is the riff at 2:30 on Reprisal.  That has a very modern `djent` like groove reminiscent of bands such as Meshuggah, Periphery, Animals as Leaders, Shattered Skies, etc. Are these bands an influence?
Louis: Yes, Periphery are a big influence on the other guys in the band. The Periphery influence is also evident in Hollow Shore.
Ant: Yes, but I wouldn't really call that part 'djent' it was more Pantera-style groove with that lower feel, but I do love those bands.
Biggest influences for the album in terms of guitar parts?
Louis: Alter Bridge, Alice In Chains, Tool, Maiden. I think you can hear these influences on a lot of the album tracks.
Ant: Bjorn from In Flames, Steve Morse from Deep Purple, Adrian Smith from Iron Maiden and also Jeff Loomis.
Your favourite guitar moment on the album?
Louis: Ant's solo on Hollow Shore
Ant: Either the end of the solo on Hollow Shore, the heavy section in Suffer unto me or the middle 8 and guitar solo in Gravity Breaks.
The guitarists…
Most difficult thing you`ve ever learned to play on guitar?
Louis: Anything Ant Rickett writes for me! The mid-section of Suffer Unto Me took a lot of practice.
Ant: The intro to Psalm of Lydia by Nevermore.
Who`s your favourite guitarist/biggest influence ever?
Louis: Jimmy Page and Toni Iommi. Rock and metal stems from Zeppelin and Sabbath.
Ant: Steve Morse
What`s the first song/riff you ever learned on guitar?
Louis: Knockin' On Heaven's Door
Ant: It was either Highway to Hell by AC/DC or Wishing Well by Free.
Why did you choose to play the guitar?
Louis: My brother had a compilation of Maiden and GN'R songs and I was amazed by the music but in particular the guitar riffs and solos. After watching Iron Maiden Live at Donington on video I knew I wanted to play guitar!
Ant: I had been listening to guitar based music from an early age, so that's when I decided.
What`s the first guitar you owned?
Louis: It was a ¾ Encore acoustic which my dad bought for £8 from a car boot sale! My first electric guitar was a Strat copy with no label on it, I still have it but have no idea what make it is!
Ant: Squier Stratocaster
Self taught or formal lessons?
Louis:  I had formal lessons for a couple of years.
Ant: Self taught, however I think lessons are key to getting the most out a player, because you can't teach someone to play a guitar, you can help them completely understand the fret board from a technical point of view.
Song you'd most like to cover?
Louis: I'd love to cover a Tool track, something like 'Vicarious', it would be some achievement to nail a track like that!
Ant: `Pictures Of Home` by Deep Purple.
Your favourite band?
Louis: Iron Maiden
Ant: This is a tough one I can't really answer, but the bands that got me into hard rock/metal were Deep Purple, Black Sabbath, Iron Maiden, UFO and Rainbow.
Who`s the best band you have seen live?
Louis: Iron Maiden / Guns N' Roses
Ant: Gojira
What`s your favourite album?
Louis: Iron Maiden – A Matter Of Life And Death
Ant: At the moment I am listening to Blood Mountain by Mastodon and Edge of the Earth by Sylosis a lot.
Favourite song to listen to?
Louis: Iron Maiden – The Longest Day
Most exciting new band?
Louis: Heaven's Basement
Ant: Sylosis/Periphery
The Band
What was your best ever gig?
Louis: Our first hometown show with the new line-up at Slade Rooms, Wolverhampton. The atmosphere was electric.
Ant: The first proper MDM gig as this current line up.
Favourite effects to use and why?
Louis: I try to keep it simple with effects as I am singing most of the time but I like to use the wah on some of my lead parts.
Ant: I do like to use a bit of wah, but not in the way Kirk Hammett would – more to sculpt and emphasise particular parts in a lead section.
What does your current gear setup look like?
Louis: On this tour I've been playing a Gibson Les Paul Custom through an ENGL Powerball and an Orange PPC 2 x 12 cab on this tour. The 2 x 12 is great to save space in the van and it really packs a punch and I don't miss using a 4 x 12 on stage.
For the bigger venues I use a splitter to incorporate my Fender Ultimate Chorus combo which has an awesome clean tone. I've also got an angled standard ENGL 4 x 12 and an ENGL XXL cab which I'll be using for the bigger venues too.
Ant: Really simple. Guitar, amp and minimal effects.
One piece of gear you couldn't live without?
Louis: My Gibson Les Paul Custom
Favourite song to play live?
Louis: Suffer Unto Me
Ant: At the moment it's Kyo, from the new album 'Impera'.
What's your most embarrassing moment on stage?
Louis: Fluffing the solo to 'Identity' due to a stage light being shone in my eyes, it sounded awful!
Ant: The only thing I can think of was a power cut. There's never been any really embarrassing moments, but it's a little awkward if we have any technical issues.
The best moment of being in Martyr De Mona so far?
Louis: The whole 'Impera' experience, from demoing to recording to touring, it's been a truly amazing time of my life and it's still got plenty of time left to run.
Ant: The release day of the album, it was after months and months of hard work.
Where do you find your inspiration for song ideas?
Louis: Personal experiences always provide me with the more heartfelt songs such as 'Suffer Unto Me' and 'Gravity Breaks' but I also take inspiration from films and watching the dreaded news!
Ant: When I'm not trying to write a song. I find that when you're overly trying then you come up with rubbish.
Tips and advice…
Top advice for any new bands trying to make it?
Louis: Trust nobody! Be wary of crap promoters who don't promote anything! Try to offer a memorable live show so people will remember you. Promote yourselves on social networking sites and network with other bands, word will soon spread.
Ant: Don't stop. Don't be shy when it comes to talking to people about your band, even if you don't know who they are.
Coolest sounding chord?
Louis: Got to be E5! Power of the E chord!
Ant: I don't have a favourite but I find a lot of major chords can be used to make an evil sound, which is obscure when you come to think about it.
Advice for new bands?
Louis: If you're a new band, don't be tempted to do a gig until you're absolutely ready, first impressions are very important. Image is also key.
What does a typical day of your practice routine look like?
Louis: We practice as a band 3 times per week and I pick up the guitar at home whenever I get chance, I have no fixed regime.
Ant: Warm up, then practise techniques e.g.: alternate picking, riff writing (to see if I've got anything there) if I haven't (most often) then I practise songs.
Tips you'd like to share with other guitarists?
Louis: The only thing I can really say is practice, practice, practice! Obviously having good gear is very important too.
Ant: If you're thinking about whether or not to have lesson, have them. I have an exercise than strengthens your up-pick, I feel it should be as strong as when you pick down.
Best advice for beginner guitarists?
Louis: When your fingers start hurting, man up and play on, it's worth it!
Ant: Have lessons.
How do you guys spend your rehearsal time?
Louis: While we're touring we'll practice the set but otherwise it's usually half playing existing songs and half putting down new ideas.
Ant: Playing songs and taking the mick out of each other (not to the extent of bullying though).
Behind the guitars…
Favourite beverage?
Louis: I'm a bit of a tea belly but Guinness is my choice of poison.
Ant: At the minute, Guinness.
Best music festival you went to?
Louis: Download is the best festival I've ever been to although I would really like to try Sonisphere this year.
Ant: Download 2012 was pretty good.
Band you would most like to tour with?
Louis: Soundgarden or Alter Bridge, I think we'd fit really well with either of those bands.
Ant: Sylosis or Mastodon.
Festival you would most to play?
Louis: Download
Ant: Hellfest.
Most overrated band ever?
Louis: A lot of people won't like this but I would have to say Metallica.
Ant: Motley Crue, don't see what all the fuss is about.
Most underrated band ever?
Louis: Dropbox were criminally underrated. Also, Medication only released one album then disappeared.
Ant: SikTh, Death and Spinal Tap (laughs)
Best thing about being in an awesome band?
Louis: People coming up to you after a show and telling you how much they enjoyed it. I also get to play with 3 awesome musicians!
Ant: Playing awesome music and working with great people.