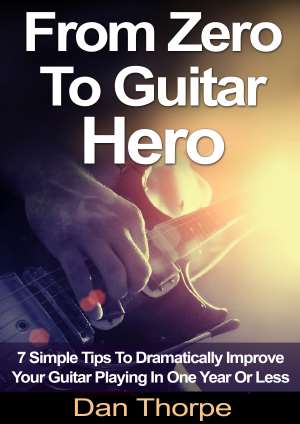 A few months ago I wrote my first ever book for you good folk out there wanting to learn and improve upon your guitar skills. It was first released in a beta state – that is I wanted to test the water and get some feedback.
After a few months of feedback from a variety of readers I have taken into account what everyone has said and done a massive update, whereby I have doubled the length of the book, added two bonus chapters, gone into far more detail, created drum beats, backing tracks, PDF`s of all the `play-along` parts of the book (which are all downloadable by the way) and improved the formatting of the book.
Now, it`s time for its OFFICIAL release. Today my debut eBook "From Zero To Guitar Hero: 7 Simple Tips To Dramatically Improve Your Guitar Playing In One Year Or Less" is out! You can order the book from Amazon at the discounted price until the end of February. On the 1st March the book will be on sale at its full price so get it now while it`s cheaper. Below, I have outlined the content from the book and added a sample from the bonus chapter.
What the book contains…
Discover the secrets that allow you to dramatically improve your guitar playing in less than one year. Imagine, in one year's time being the guitarist you have always dreamed of being. With exclusive content not available anywhere else:
Multiple drum beats to jam along with and practice your beginner, intermediate and expert guitar skills
3 PDFs containing `The Ultimate Warm-up` (not seen anywhere else)
Discover 7 key steps to finding a band you have always dreamed about being part of.
Learn the `Aural Association Method` to work out ANY song you want ANY time
Your very own PDF featuring 44 ideal songs to work out by `ear`
Practice routines created for beginner and intermediate guitarists everywhere
Learn essential secrets such as:
Having a proper practice routine,
How to find a band and other musicians
The difference between practicing regularly and practicing properly
Why mimicking your idols is so important
Learn the F.R.A.T principles and what they will to power up your practice routine
The importance of recording yourself and how you smart phone can make you a better guitarist
With two EXCLUSIVE BONUS CHAPTERS:
Bonus Chapter 1 : Use embellishments to wow your audience – Learn how to play guitar riffs, chords and techniques in the style of Jimi Hendrix, Radiohead, Jimmy Page and John Frusciante (Red Hot Chili Peppers).
Bonus Chapter 2: The Ultimate Warm-Up – Learn an awesome warm-up and technical exercise that will improve your guitar speed, dexterity, precision, scale runs, alternate picking and more…
There are no guitar tricks that will make you an overnight sensation but there are 7 essential guitar tips that will help you be a master of the instrument in less than one year. If you are a novice, beginner, intermediate or expert, you will find the 7 guitar tips in this book will allow you to reach the next level and help you master the guitar.
Also, featuring `The ultimate guitar player's challenge`
Test yourself with The ultimate guitar player's challenge and WIN £20/$33 in Amazon vouchers if you are the winner. Simply turn to the last chapter of the book on how to enter.
Are your guitar skills up to the ultimate speed test?
That`s the overview of content from the book.
Free Sample
Here is a sample from the book itself. This is a piece on how to play guitar embellishments in the style of Jimi Hendrix. Embellishments, for those of you who don`t know are basically when we guitarists play chords, but we don`t just play the basic chord, we add notes here and there, turning the chord into something much more exciting – essentially mixing up lead and rhythm guitar in one.
Every now and then you probably see a guitarist who does something just that little bit special. He or she stands up there on the stage playing what appears to be a standard chord, yet he plays these extra little notes by adding, moving or taking a finger off the fretboard. He makes it look effortless, but when you have tried, you couldn't get anything like the awesome cool sound he got.
This is a technique called embellishing. Jimi Hendrix, John Frusciante (Red Hot Chilli Peppers) and many more are famed for using them. They can be played with any chords from open position chords such as C, D, G, etc, to more difficult barre chords. It doesn`t matter what the chord is, embellishments are a tool that every guitarist should know.
They sound great, as you are essentially playing rhythm and lead guitar in one. Now, that`s impressive. It`s not actually that hard a concept. You will need to be confident of playing chords and using your all four fingers to add notes by hammering on, pulling off or sliding. If you can`t yet hammer-on, pull off and slide comfortably with each finger you may struggle with this technique so spend time practicing these specific techniques.
Likewise, if you struggle to play in time with basic strumming patterns you may not be able to lock in to the groove to create the interesting rhythmic flow that usually happens during the most interesting embellishments.
Hendrix was an absolute master of embellishments and frequently varied each chord embellishment each time the passage came back around. This is because his rhythm skills were second to none. To be great at this technique you will also need superb rhythm skills.
Don`t worry, rhythm skills can be developed.Just follow the advice in Chapter 2, 3 and bonus chap
If you are not comfortable with advanced rhythm, hammering on, pulling off and sliding, then practice these techniques individually alongside these embellishments pieces.  Add this technique to your playing; and your listeners will be very impressed. Here is the 2nd of four examples from the bonus chapter – Use embellishments to wow your audience.

You can listen to the track here.
Take it steady with this embellishment. The first two beats in each bar use the same consistent rhythm but the last two beats vary. There are a few different rhythms going on in the second half of each bar. Get the feel for the first two beats down separately, and then get working on the last half – which is the cool part and really makes it stand out from a simple and rather boring chord progression.
Imagine, if the embellishments weren`t there, this would be a very simple piece to play. It wouldn`t sound bad, but it also wouldn`t be particularly exciting.
That`s what Hendrix used to think too. He would frequently take a simple chord progression, and spice up it with a variety of exciting, and rhythmic embellishments. Learn this embellishment adn then start creating your own. You and your audience will love it.
Let me know what you think!
If you buy the book and read it, I`d love for you to let me know what you think. At some point in the future I will be writing more books, so would love some feedback on this book and your opinion on what you would love to read next.
I always read and respond to emails (even if it takes a few days), and take what you all say into account. It is out now at a discounted price so all you good readers and subscribers get it first and get it at a better price.
Thanks for making this book possible. Hope you enjoy it.