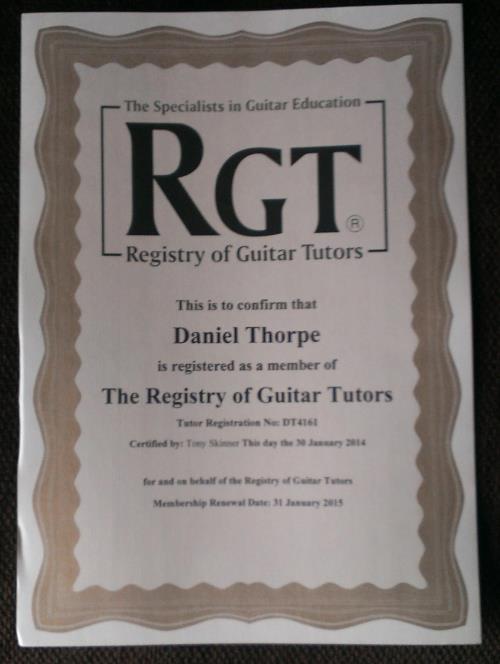 Great news everyone. I have finally got round to joining the Registry of Guitar Tutors. It`s something I meant to do last year but for various haven`t got sorted till now. There are some really handy benefits for me being an RGT registered tutor.

Now, I can put you in for your RGT exam. For those of you studying grades or would like to, this is a very handy benefit, as I also get extra time to put you in for it, so you don`t have to worry about the deadlines as much. The RGT exams are recognised qualifications and from grade 6, RGT exams are awarded UCAS points –which I know is big plus for many parents and schools.
I also have my RGT certificate framed and on display in my studio which for prospective students is important as having an RGT registered tutor is a piece of mind for many parents and students alike. There are also various other handy benefits such as some very well made guitar teaching materials which I have access to and which go along nicely with my own resources. Other benefits include that I will receive three issues per year of RGT's Guitar Tutor magazine, the only specialist publication for guitar teachers, access to RGT's Free Tutor Advice and Support Service, an invite to the RGT's Annual Guitar Teachers Conference and more.
All the things that benefit me as a teacher will benefit you as a student's so I`m more than happy to be a member of the prestigious Registry of Guitar Tutors. Oh, and there is even the RGT polo shirt, but I`m not convinced I`ll be wearing that just yet. 🙂