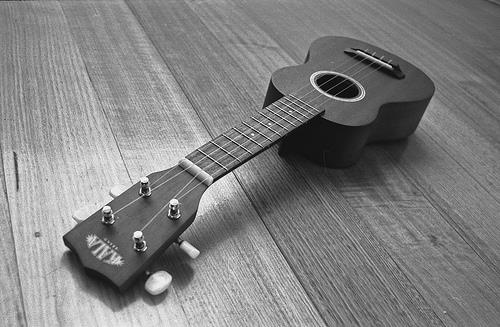 The ukulele is a wonderful instrument which has had a huge surge in popularity in recent years…and it just keeps on getting more and more popular. Easier to learn than guitar, you can get playing REAL songs in as little as an hour. It is that simple. If you want to learn how to play the ukulele and you live in or near the Sandwell area of the West Midlands, then come down for a free trial lesson (special offer for the month of January 2014) . My home studio is based in Cradley Heath (nr Halesowen and Dudley). We will get you playing some classics and some of your favourite songs in no time! For ukulele lessons in Cradley Heath call Dan on 07546 392 468 or click here.
For so long the ukulele has had a reputation of a gimmick or a toy. Well, no longer. It is a very fun instrument to play but it isn't a toy. You can create some genuine masterpieces on it. Check out Jake Shimabukuro for proof. If you are Queen fan, check this out.
In 2007, the ukulele started to replace the recorder as the instrument of choice to be taught in primary schools – and with mainstream artists such Noah and the Whale, Eddie Vedder and Beirut all endorsing it, it's no wonder that ukulele playing has really started to take off. We even have a Ukulele Orchestra of Great Britain to confirm that the instrument is truly here to stay.
For many, simply learning to strum your favourite songs on the ukulele is enough to satisfy your appetite. Songs such as Jason Mraz`s `I`m Yours`, Adele`s `Someone like you` or The Beatles `Let it Be` are very popular to play on the `uke` and are a fair bit easier to play than on guitar. Recently, however many ukulele players are starting to see the true potential of the wonderful instrument. You can do far more on it than just strum some chords and sing along (although there's nothing wrong with doing just that). You can create some big masterpieces on this small instrument.
The great thing about learning the ukulele is that the skills you will acquire are all easily transferable to guitar – acoustic and electric, as well as other string instruments such as the mandolin and banjo. Imagine being able to play all those!
If you want to learn the ukuklele and live in the West Midlands, then you are welcome to come down for a free trial lesson which is available for anyone wanting to learn. To book, call Dan on 07546 392 468.